---
There aren't many city centre train stations where you can see the city's sporting stadium from the station platform.
Then again there aren't many cities like Cardiff.
The Welsh capital could be a contender for the UK's rugby capital, a case bolstered by its reputation on a matchday when the national team are in town and such a wide array of central drinking options in a relatively small area.
In fact, it only takes an astonishing 13 minutes to stumble around all 6 pubs in this list (and that's not even if you beat Mr Google Maps, which I reckon you can do - even if you're drunk), you won't be hard pressed to find a number of pre and post-match watering holes to wet the vocal chords and/or drown your sorrows, depending on the result! As one Facebook poster commented:
"All over Cardiff on match day is buzzing - just bounce from one place to the next"
Having been myself on numerous matchdays, I can wholly endorse that spirit and you'll have a brilliant experience wherever you go on a matchday. But, if you're after 6 of the best matchday pubs, here's your ultimate list of
The Top 6 Pubs to Visit on a Matchday to Cardiff.
P.S. there's a handy little map at the bottom if you want to make a little pub crawl out of it, just don't blame me if you can't make out the ref from the players or you're too inebriated to get into the ground.
---
6. The City Arms - Best for: A wide range of craft ales, ciders and beers.
Like the Queen's Vault's (see entry below), the City Arms, is just a dropkick away from the Principality stadium. In fact, I reckon even I could kick a ball into the stadium from there with a bit of wind and good luck. The City Arms is a real beer and ale-lovers paradise. Landlord, Chris Rowlands is as passionate about his beer as you are about your rugby and boasts of having 10 different ales, ciders and craft beers that rotate all the time.
The pub is part of the Brains brewery company and the streets outside are pedestrianised on a matchday, making it a prime spot to mingle with fellow supporters before and after the game.
---
5. Owain Glyndwr - Best for: Lots of screens showing live sports.
You might not be able to pronounce the name, (especially not after a few too many) but this city-centre pub, named after one of Wales' most favoured sons who led a 15th century rebellion against English rule. Don't worry if you're English though, you'll still be welcomed. I think.
The pub is packed with screens showing live sport, has a spacious seating area both upstairs and down and a food menu served from 10am-9pm. As it's such a popular spot, you might well have to book your table for food, especially for a Six Nations match so planning in advance is recommended.
---
4. Brewery Quarter - Best for: Getting a bite to eat to line the stomach
If you're not after a small, local pub but more searching for a slightly more modern vibe with a lively courtyard area and plenty of food options, the Brewery Quarter is for you. Based just off the main thoroughfare, this small but very lively square offers plenty of choice for when you've had one (or two) too many and need something to line the stomach.
There's a Nando's if you fancy being cheeky, a Starbucks if you're struggling on a weekend bender and YARD and Brewhouse, both of which are lively, modern bar/pubs that will be packed on a matchday. Wherever you are, there's likely to be a live musician filling the city air to get those vocal chords lubricated.
---
Don't forget, if you're a local supporter who wants to give a warm Welsh welcome or a travelling fan who wants to save on the extortionate hotel prices, we're always looking for more rugby supporters to join our community of like-minded supporters who host each other on away trips.
---
3) Wetherspoons: The Gatekeeper/The Prince of Wales
Best For: Sheer numbers! They'll be packed with hundreds of friendly fans
Yes, yes, I know. I like to support and promote local, independent boozers (check out the rest of this list if that's what you're after). I know it's not for everyone but having been to these two on several occasions for a matchday, I'd be doing you, and the wonderful venues and staff a disservice if I didn't mention them to you.
The Prince of Wales is a large converted theatre, whilst the Gatekeeper, is on the site of the old city walls, as the name suggests. Both are run by friendly teams, are less than a stone's throw away from the stadium and are extremely spacious so attract a large crowd of both home and away supporters. Contrary to popular belief, they do boast some local ales and combine that with the usual good value food offering.
---
2) Queen's Vaults - Best For: A short stumble to your seat for the big match
An icon of the Cardiff pub scene and your last stop on a matchday pub crawl, whether it's The Queen's Vaults or The City Arms (see below) you won't find any pubs closer to the Principality stadium. In fact, they're so close, I'm almost tempted to say you could chance overcoming the recent halftime ban on alcohol sales by nipping out of the stadium to here at halftime for a swift one. Just make sure it's a very swift one and you've had a word with the steward at the gates.
With its distinctive red-tiles and bulging hanging baskets on the exterior, its an instantly recognisable spot that boasts live sport, food, real ales and several pool tables if you can still see the difference between red and yellow a few pints down.
---
Before we get to number 1, if you're a local supporter who wants to give a warm Welsh welcome or a travelling fan who wants to save on the extortionate hotel prices, we're always looking for more rugby supporters to join our community of like-minded supporters who host each other on away trips.
---
1) The Old Arcade - Best For: Classic Welsh rugby merchandise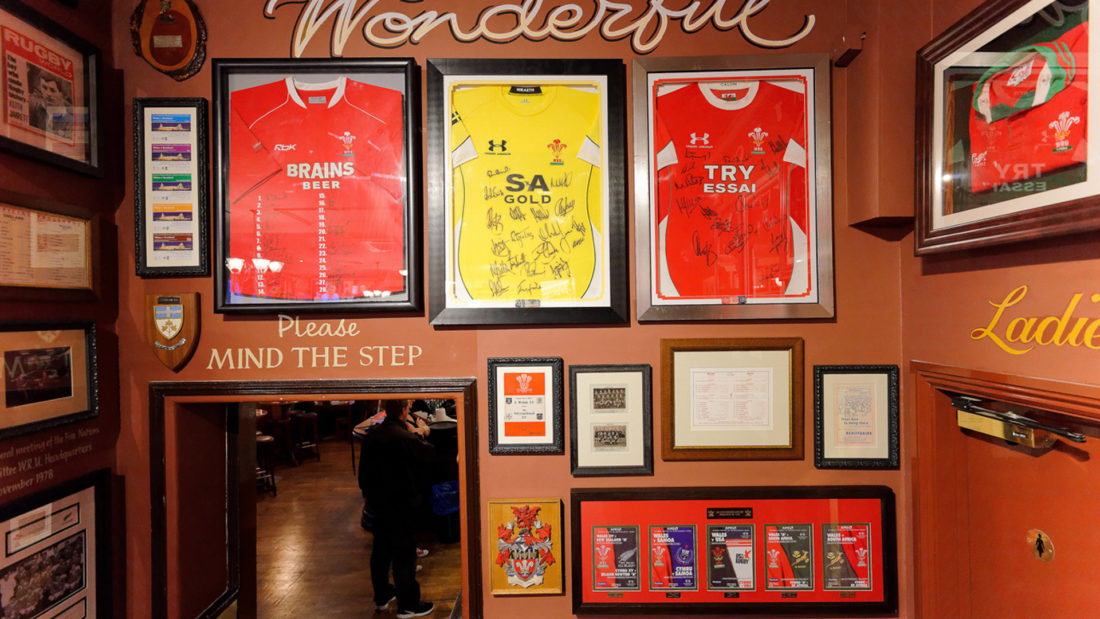 A local's favourite. Don't be fooled by the side street location and small exterior of this pub in the beating heart of Cardiff. Set just off the central High Street, St Mary's, it's a lively hive of good banter, a warm Welsh welcome (or should that be croeso?) and a whole host of replica rugby memorabilia, from signed Wales shirts to old balls and everything in between.
In addition, Mark and his friendly team are on hand to make sure everything runs smoothly and there are a couple of TVs showing sport that you can keep a passing eye on.
---
Considerable mentions
Walkabout on St Mary's is normally absolutely jam packed with supporters and was mentioned by a few punters who we polled but misses out on the fact that it isn't strictly a pub and more of a bar, as does Revolution and The Angel Hotel which I am reliably informed has a male voice choir pre-match.
Further shout outs also go to the The Borough, The Packet, The Corporation and The Transporter's Club.
Map

---